American Mitigation Company (AMC) of Charleston, SC, and Carothers Ecological Solutions (CES) of Austin, TX are proud to announce the merger of the two firms.
The addition of CES is a significant expansion of AMC's footprint and capabilities. The two firms will be better be able to provide mitigation solutions and related ecological restoration services to clients nationwide.


AMC, formed in 2019, has extensive experience developing and managing mitigation banks and Permittee Responsible Mitigation (PRM) plans for projects in the Southeast. The company is owned and managed by professionals that have held key leadership positions for ecological service firms, mitigation providers, and professional associations. The owners and key staff are industry veterans that specialize in finding and originating land investment projects that have the potential to generate landscape scale restoration projects. To date, AMC and its principals have:
• Been involved with over 40 mitigation projects,
• Restored/preserved 10,000+/- acres of wetlands, and
• Restored/preserved 22+/- miles of streams.

CES is an ecological and environmental consulting firm focused primarily on supporting the development of conservation and mitigation banks, as well as PRM plans and turnkey mitigation strategies. President and Founder, Kenny Carothers has worked on mitigation and conservation projects in numerous states spanning from coast to coast and many points between. With over 30 years of experience in the environmental consulting space, he has coordinated projects in both the public and private sectors with a broad range of federal and state agencies and private entities.

"We are excited about this opportunity to bring CES into AMC. This was a natural fit for us. Kenny brings a wealth of experience to AMC, and he will be instrumental to identifying and generating ecological restoration opportunities throughout the nation."

Ross Nelson, AMC president & COO

"What an amazing opportunity, at the perfect time in our industry" – said Kenny Carothers. "Joining an already successful firm in the mitigation and ecological restoration space is a dream come true for me. I am both honored and humbled by the opportunity to bring CES to AMC and work to implement our strategic plan for significant growth in both geographic coverage, and diversification of service offerings. I have no doubt that this newly formed team can deliver for our combined client base and be a significant player in the mitigation and ecological restoration space".
American Mitigation Company (AMC) received approval for the Point Farm Salt Marsh Mitigation Bank (PFSMMB). The 1,313-acre bank is located on Wadmalaw Island in Charleston County, SC. The USACE approved the bank in June 2021. The bank will result in the protection and restoration of 1,166 acres of tidal salt marsh and 147 acres of upland buffers. The bank is in the Edisto watershed and serves the entire Charleston area. Mitigation credits from the bank can also be used in other watersheds in coastal SC.
The bank includes:
The enhancement of a 23-acre brackish water impoundment
The restoration of a 15-acre freshwater impoundment
The restoration of 15 acres of old agricultural fields to tidal saltmarsh.
The preservation of over 1,107 acres of saltmarsh.
Specific goals within the Bank include:
Preserve existing functional tidal channels that have a hydrological and ecological connection with the North Edisto River and Leadenwah Creek watersheds and floodplains;
Restore connections and normal flow regimes within existing slightly brackish and saltwater impoundments to promote tidal exchange with the Leadenwah Creek;
Establish natural hydroperiods, hydrodynamics, and vegetative communities within restoration and/or enhancement wetland areas to reflect the tidal ranges and vegetation structure of nearby reference wetlands;
Preserve existing uplands that provide filtration of floodwaters and habitat corridors within the floodplain of the Leadenwah Creek; and
Improve hydraulic and biological connectivity to reflect a more natural tidal condition.
The Conservation Easement is held by Unique Places to Save.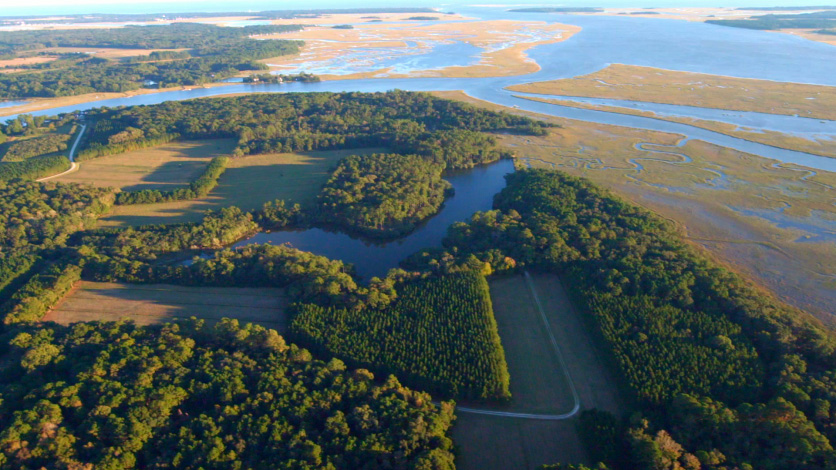 https://www.amitco.org/our-banks/point-farm/
https://www.uniqueplacestosave.org/
Lt. Col. Rachel Honderd from the USACE, Charleston District, conducted a site visit at our Toms Branch Mitigation Bank (https://www.amitco.org/our-banks/toms-branch/) in Lexington County, SC. During the tour, USACE leadership discussed wetland and stream restoration and the mitigation banking process. The proposed restoration plans for Toms Branch were highlight. We also discussed several projects in the area that will require mitigation credits from the bank.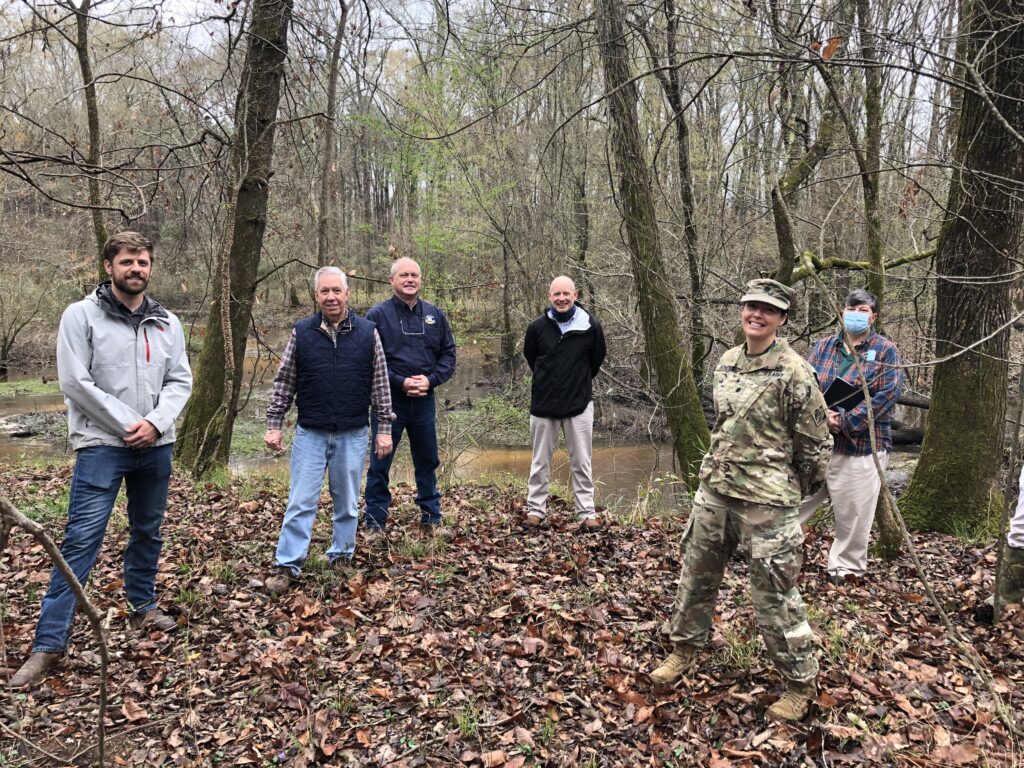 During the meeting, the USACE presented David Wilson with a commemorative coin to recognize his hard work and leadership in the mitigation banking process. David is the chair of the SC Interagency Review Team. He coordinates review and approval of all mitigation banks and credit release request for all of the banks in the state. We were honored to be a part of the USACE's recognition of his hard work.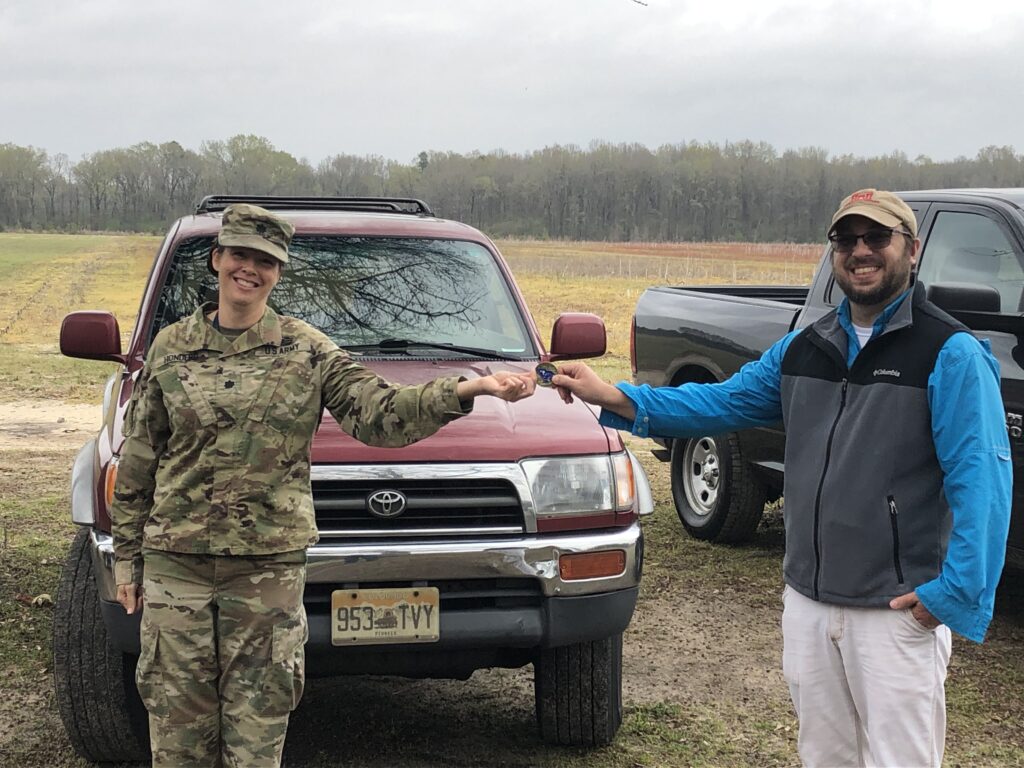 Toms Branch is expected to be approved in early 2021. The bank will provide wetland and stream mitigation credits throughout the Congaree, Wateree, and Lake Marion watersheds. The site will be protected with a conservation held by Congaree Land Trust (https://congareelt.org/).
AMC (http://amitco.org) is working the SCDOT to develop a unique In-Lieu Fee (ILF) Program. When approved, the program will use guidance from RGL 18-01 to generate mitigation credits through the repair and replacement of perched and undersized culverts. TRB recently included an article about the program in one of their newsletters. Check it out here:

https://environmentalanalysis974038017.wordpress.com/2021/02/12/s-c-infrastructure-repairs-to-generate-mitigation-credit-a-story-of-rgl-18-01/

This is one of the best sources for information on wetlands, their value, and their status in North America. AMC proudly supports Wetlands America and Ducks Unlimited. Click the following link to access the report: